The Ronald E. McNair Post-baccalaureate Achievement program, awards grants to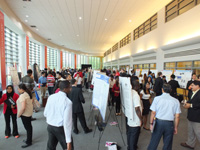 institutions of higher education for projects designed to provide underrepresented students with effective preparation for doctoral study.The New Jersey Institute of Technology (NJIT) Ronald E. McNair Post-baccalaureate Achievement program is a comprehensive one. It is designed to help low-income and first-generation or underrepresented students majoring in Science, Technology, Engineering and Mathematics (STEM) disciplines to complete their bachelor's degree, and to enroll in post-baccalaureate degree programs, with the goal of obtaining doctoral degrees
---
McNair Achievement Program Stories From Our Features Site
Right after they graduate, three seniors will work at ExxonMobil, which will offer them challenging assignments and high starting salaries. All three of the seniors major in chemical engineering...
read more!
For the last few years, Jacqueline Moreno has worked two jobs: one in the Campus Center and another at a local movie theater. She uses her pay checks to cover her tuition. Her father can't...
read more!
Steve Susanibar will spend the summer doing research at Stanford University. He was accepted into a competitive internship program that will allow him to work in one of Stanford's...
read more!